TrafficVis: Visualizing Network Traffic
---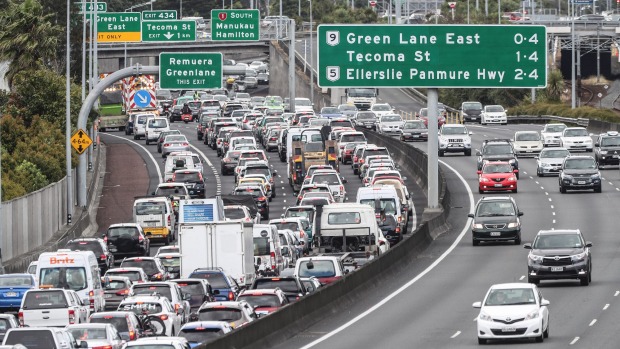 Images courtesy of Stuff.
Project Title
Visualizing Network Traffic Resilience
Project Description
A resilient transport network helps the New Zealand Transport Agency to be responsive to unforeseen events and provides people with confidence that they will be able to undertake their journeys in a timely manner throughout New Zealand. Managing resilience involves targeting the risk of anticipated disruption on the network. Investment varies widely across the programme. Some NZTA examples include:
joint traffic operating centres that help maintain traffic flows, especially during floods and similar events
ensuring critical items such as bridges and road surfaces can recover quickly from setbacks
enforcement of heavy vehicle axle weights that protect pavement and structural integrity
measures, such as riverbank protection works, that lessen the impact of flooding and similar events
improvements that target alternative routes such as the Saddle Road in the Manawatu and the Western Ring Route in Auckland.
New Zealand's topography, climate and exposure to seismic events mean that there will always be a risk of network disruption. A range of work is already underway to help increase resilience. This includes physical works, such as bridge strengthening and slope stabilisation, and using traffic operation centres to keep people and vehicles moving. Resilience is also about minimising the impact of disruption. Emergency response planning helps ensure that networks `bounce back' as soon as possible following a disruptive event.
Resilience in rural and urban areas tends to take different forms. Disruptive events in towns and cities tend to be caused by technical events such as breakdowns or crashes. While they are often resolved quickly, the impacts can be significant due to the number of users, the lack of spare capacity on congested networks and the inability of alternative routes to cope with additional traffic.
In rural and provincial areas network disruption is more commonly caused by environmental or weather events, such as landslips, flooding, snow and ice such as recent examples in Kaikoura and Wellington. While traffic volumes tend to be lower than in urban areas, a lack of viable alternative routes can cause significant disruption.
The aim of this project is to better quantify the benefits of improving network resilience, enabling more consistent prioritisation of investments using informatiom visualization techniques.
Related Work
Craig Anslow, Brian Jackel, Khalid Mehmood, Paul Fairie, Adam D'Souza, Michael Underwood, Katherine Teh, and Nima Safaian. Towards Visually Understanding Commuter Behaviour. In Proceedings of the IEEE VIS Workshop on BusinessVisualization (BusinessVis), Paris, France, 2014.
---
Researchers

Dr. Craig Anslow
Lecturer in Software Engineering
School of Engineering and Computer Science
Victoria University of Wellington

Chris Vallyon
Senior Associate
Transport Analyst
Beca

---
Project Sponsors
---
Copyright &copy 2017 - Craig Anslow |